Are you a parent who is struggling to find an effective way or tool to prevent your child from falling off the bed?
As a parent, we believe that your child's safety is your very top priority. That is why these toddler bed rails and bed rail bumpers are exactly what you are looking for. They are invented to serve as an extra guard in securing that your child will not fall off the bed.
These two products share a common goal in protecting your child; however, there are also some differences between the two. In order to understand how these two works, you may have to find out below.
List of The Best Toddler Bed Rails Reviews:
10. Tebery 2 Pack Toddler Bed Rail Bumpers Safety Side Memory Foam Pillow Pads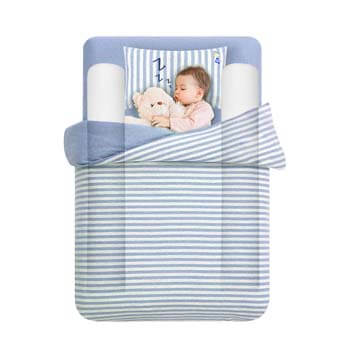 These toddler bed rails are made of 100 percent waterproof polyester and 100 percent polyurethane. They are safe for your child because the products are hypoallergenic, non-toxic, phthalate, and BPA free. Moreover, they are extremely soft since high-density memory foam is included as material so that your child can sleep comfortably.
In addition, they are waterproof while the cover is washable. The silicone beaded non-skid fabric will keep the bed rails in place. At the same time, they are easy to install and can be fit to toddler beds, twin, full, double, queen, and king beds.
According to one of the reviews, it gives their child enough of a barrier to keep them safe when they roll around in the night and they also use them as pillows.
9. Regalo Hideaway 54-Inch Extra Long Bed Rail Guard, with Reinforced Anchor Safety System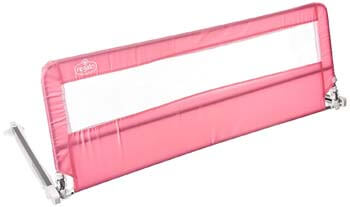 In contrast, this is a long bed rail which is constructed by an all-steel with a durable mesh nylon fabric to guard your child's safety. It features a hideaway technology which means the bed rail is able to slide along a track so that you can store it between the mattress and box spring. On the other hand, the gap guard protection will prevent a gap between the mattress and rail.
Due to its size, you can easily change the position of the rail. Also, the locking knobs will ensure that the rail is in place. It can fit up to a queen-sized mattress; however, it is more suitable for a bed that has a box spring or hard surface underneath the bed rail.
8. Regalo Swing Down Double Sided Bed Rail Guard, with Reinforced Anchor Safety System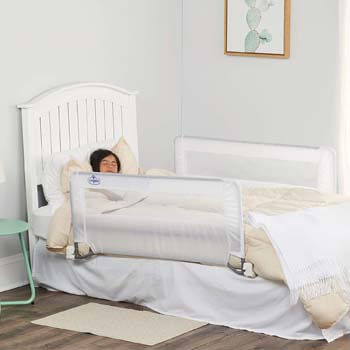 It is a lightweight yet durable bed rails for toddlers and made from an all-steel frame. If your bed is not against a wall, then this might come in useful for you. Remarkably, it included the swing down function that permits this bed rail to pivot down when getting in and out of bed or removing sheets.
In order to make sure that the bed rail stays attached to the bed they also come with an anchoring strap. It is worth noting that it goes well even with a thick mattress but it can only be used with a bed that has a box spring.
7. Toddler Bed Rail Bumpers [2 Pack] Safety Sleep Bedside Rail Guard for Toddlers & Kids & Baby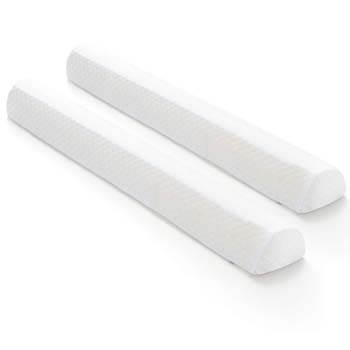 Just like the first review, it is not a metal rail but a foam bed bumper that is soft and cozy. Besides, the high-density memory foam offers a soft touch to kids but also firms enough to prevent them from falling. The cover is made of non-slip silicone and airy cotton fabric which is machine washable.
With three simple steps, it is easy to install. Its dimension resulted in fitting well in any bed size and ages. The product is also certified in safety by CertiPUR-US. As stated by one of the reviews, the daughter used to fall out of bed every night even though there was a haft rail, but after getting this she no longer has this issue.
6. Summer Extra Long Folding Single Bedrail, Grey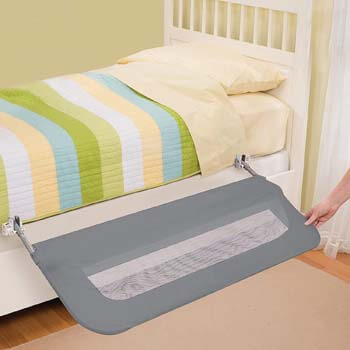 The Extra Long Folding Single Bedrail provides added security when transitioning your child from the crib to a bed. The mesh fabric is breathable and they can be folded down for parents who wish to sit bedsides or change linens.
It is quite easy and quick to assemble which might take approximately 15 minutes. The rail is very sturdy as mentioned by one of the reviews, her husband even leaned against it while he was sleeping. The length is very beneficial because it covers the bed nearly 3 quarters as for a queen-size bed. Similarly, it performs better for the bed that has a box spring.
5. Summer Single Fold Safety Bedrail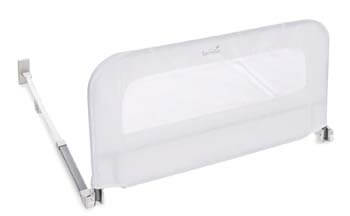 It is an easy fold down for easy access bed rail so that you can easily change your linens. The bed rail requires minimal assembly for a quick, easy installation. Further, the rail is solid, durable, and does the trick while the anchors work pretty well to secure the rail. No worries if your child moves around a lot.
Nevertheless, it is worth mentioning that it should not be used unless the bed rail is tight against the mattress without gaps and at least 9 inches from the headboard and footboard. To add on, do not fill gaps with pillows or blankets or other items to suffocate children.
4. Summer Double Safety Bedrail, Grey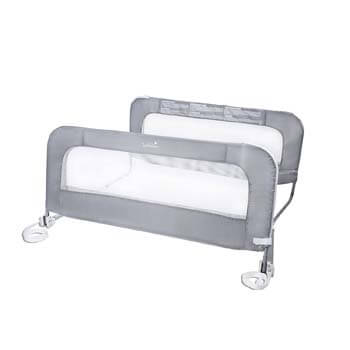 Conversely, these double bed rails are made from polyester, frame, and metal. Interestingly, one side can easily fold down for quick access to the bed. There are two small knobs on the arm of the bed rail and they need to be pushed up for the rail to be folded down.
A lot of the reviews said they are easy to assemble and highly durable. Although, their toddlers move all over the item able to keep them safe. Nonetheless, it should be noted that it can be used only on the adult bed with a mattress and box spring or platform bed.
3. Toddler Bed Rail Bumper, Bed Bumpers for Toddlers, Kids Foam Safety Guard for Bed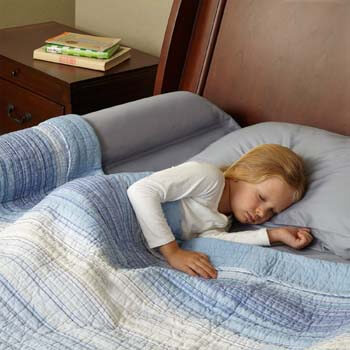 Amazingly, these bed bumpers are the creation of flame retardants, mercury, lead, heavy metals, formaldehyde, and phthalates. It went through performance-tested, durability-tested, emissions-tested. On the flip side, the soft silicone beaded non-skid fabric cover is washable.
They are even versatile enough to be used as a stationary body pillow or bed divider. Additionally, these bumpers are the perfect height and size to allow your toddler to stretch out while sleeping. Although it can fit a variety of beds, it is important to note that it is not usable on top bunks or loft beds.
2. Regalo Swing Down 54-Inch Extra Long Bed Rail Guard, with Reinforced Anchor Safety System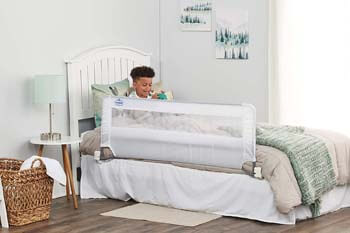 Just like its name, this bed rail is extra-long to provide extra safety to your toddlers. The product contains a steel frame and a durable mesh nylon fabric. It features a swing-down functionality by just pushing a button. Correspondingly, it has gap guard protection to make sure your child does not slip between.
What is more, is the T-shaped anchors can tighten and attach the rail in place. The cover is made from a fabric that is easy to keep clean by simply wiping with a damp washcloth. This product can only be used with bed and box spring.
1. Regalo Swing Down Bed Rail Guard, with Reinforced Anchor Safety System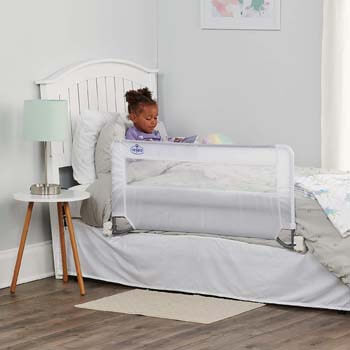 This bed rail designed with all-steel frames is certified by the American Testing Society and Juvenile Product Manufacturers Association. With the swing down feature, the bed rail can easily pivot down without any difficulties. Also, the anchoring strap that secures the bedrail to the bed.
Apart from the mesh fabric is soft to the touch and comfortable for your toddlers. Beyond that, it is machine washable. It is easy to set up as it does not require many tools. To ensure proper fit you should follow the guideline. Hence, this bed rail is applicable from twin to queen size bed with a box spring.
CONCLUSION
We hope that after going through this product review you have a favorite in your mind. These toddler bed rails and bumpers are useful in guarding your toddlers against accidents even during your sleep. With that, you can have a good sleep without the need to worry about it.
Concurrently, they are detachable from the bed which allows you to change your bed sheet or remove them to clean. To summarize, if you are owning a bed that does not have a box spring then it is more suitable to use bed rail bumpers. While the bed rails are applicable for various types of beds except for top bunk and loft bed.