Pregnancy is a blessing for the family. Nevertheless, for the mother-to-be, as the bump grows in size, sleeping and resting is no longer an easy task as finding a comfortable position is a challenge. That's when the maternity pillow comes in handy.
The maternity pillow serves to help provide support for the bump and other extra weight while sleeping or resting. The size, shape, and materials are the common criteria to be considered when purchasing the maternity pillow.
For your convenience, below is the list of the 10 best maternity pillows compiled. Based on individual needs, we hope you find the one that is just right for you.
Best Maternity Pillows for Back Pain Relief and Pregnant Women Reviews:
10. NiDream Bedding Pregnancy Pillows, Full Body Pillow with Washable Cotton Cover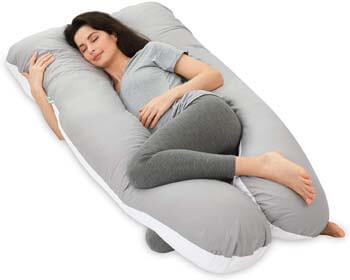 This NiDream pregnancy pillow is designed following the shape of the human body with an oversized U-shaped that is long enough for the full body to stretch out and support both sides of your body. The size of the pillow stretches to around 60 inches in length and 31 inches in width which allows the users to comfortably rest on it. This full support design and shapes are great for a back sleeper, side sleeper, and also stomach sleeper.
Additionally, this pillow comes with an outer pillowcase which is made from 100% cotton and can be washed regularly. The inner cover of the pillow is made of brushed fabric and filled with premium polyester which offers persistent fullness and durability. In order words, it is soft enough to provide comfort for users while not too soft to be easily collapsed.
9. AngQi Full Body Pregnancy Pillow, U Shaped Maternity Pillow for Back Pain Relief and Pregnant Women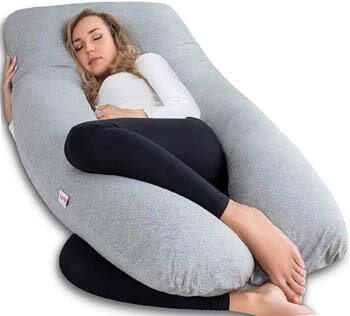 This AngQi Full Body Pregnancy Pillow is another great U-shaped maternity pillow that provides effective support for the back, hips, knees, neck, and head to help ease discomfort associated with pregnancy, sciatica, fibromyalgia, gastric reflux, and more. This 60 inches maternity pillow comes with a super soft and stretch jersey cover with a double zipper for easy removal and machine washable.
The inner cover is 100% polyester, which is long-lasting resilience and durability and the 100% polyester hollow fiber filling. The unique thing about this pillow is that it allows users to customize the filling loft by adding or subtracting the amount of filling through the zippers on the inner case based on individual needs. It serves to be the perfect fit.
8. AS AWESLING 60in Full Body Pillow | Nursing, Maternity, and Pregnancy Body Pillow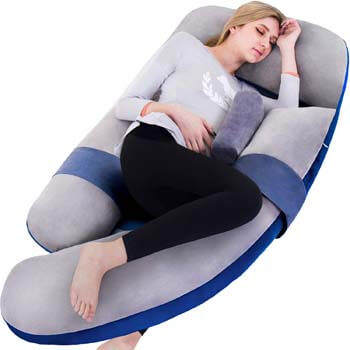 If you are a mother-to-be looking for a maternity pillow that allows room for greatest customization for your various resting position's needs, this AS Awelsing Full Body Pillow should certainly be on your list of considerations. The design of this full body pillow is very different from most pregnancy pillows. It is a full-body pillow in the U-shaped with the J-shaped curve. The detachable side pillow allows it to be arranged into many shapes for many different resting positions. There are also concave areas for relaxing your arms.
Additionally, it also comes with the separate bonus belly-support pillow and the strap that keeps the two sides of the pillow together. For the materials, this pillow is made from the soft velvet fabric for the outer cover which can be removed and washed. The inner cover comes with a zipper so that users can stuff or remove the filling as needed.
7. PharMeDoc Pregnancy Pillow with Travel & Storage Bag, C Shaped Full Body Pillow with Grey Jersey Cover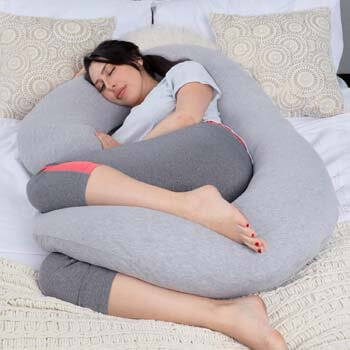 Looking for a big C-shaped pregnancy pillow that can hug around your body to give your support? This PharMeDoc C Shaped Full Body Pregnancy Pillow should be one of your considerations. This pillow is designed to replace the need for multiple bed pillows and help support your back, hips, knees, neck, and head. The adjustable polyfill material allows the adaptation for multiple uses as leg support, neck support, and sleep support.
Additionally, the included travel and storage bag of this pillow makes storing and bringing this pillow around easy. The super-soft polyfill is designed to provide soft comfort with support. The removable zipper cover is washable and perfect for keeping the pillow clean.
6. Pregnancy Pillow, 60 inches Full Body Pillow Maternity Pillow for Pregnant Women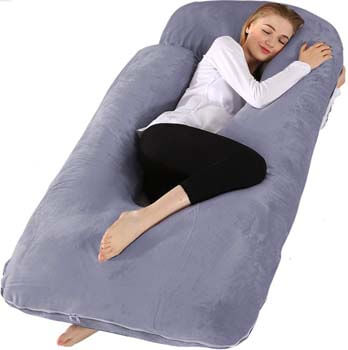 This pregnancy pillow features the entire comfort and total U-shaped with extended J-curve design. The size of the pillow is 60 inches in length and 28 inches in width suitable for most people. This full-body pillow serves multipurpose focusing on a comfortable position for most resting positions including sleeping, reading and is ideal for expecting mother and also people suffering from hip or fibromyalgia, poor posture, or anyone looking for getting better sleep.
Additionally, this pillow also comes with a removable and washable cover-equipped with a zipper at both the inner and outer cover, so that the outer cover can be washed and kept clean. The high-quality Bionic Polyethylene filling retains fluffiness and provides comfort for sleeping even for people with allergies and sensitive skin.
5. INSEN Pregnancy Pillow, Maternity Body Pillow with Pillow Cover, C Shaped Body Pillow for Pregnant Women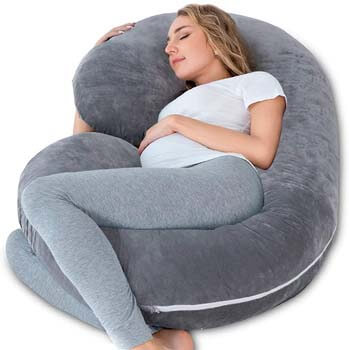 "This pillow is life-changing. I would always move around during the night and use 4 pillows to be comfy. Since I got this pillow, I am a lot more comfortable and feel like I have support. I am only 9 weeks Pregnant and so glad I got this pillow already." wrote one reviewer. This INSEN C-Shaped Pregnancy Pillow is designed to replace up to 4 or 5 small pillows to help support your body such as back, belly, hips, and knee.
Allowing the user to rest in a comfortable position, this pillow can help relieve pregnancy body pain and reduce interruptions all night. This pillow is made from the premium 7D PP Hollow cotton that is designed to provide soft comfort with increased support density as the user applies weight to it. Also, both the velvet cover and the inner cover comes with zippers for washing and stuffing.
4. hiccapop Pregnancy Memory Foam Pillow Wedge for Maternity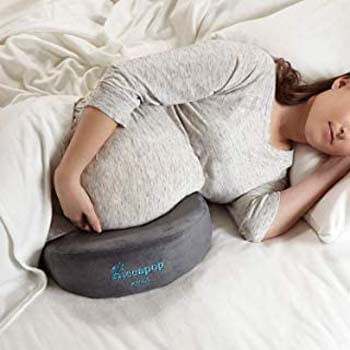 If the full-body size pillow is not the option you are looking for, then this hiccapop Pregnancy Pillow Wedge for Maternity might be your consideration. Unlike the full-body size pillow that takes up spaces, this pillow is compact and portable for indoor and travel while still serving its function to provide support for the expected mother. Additionally, this pillow features the CertiPUR-US Foam airflow ventilation technology that helps keep the pillow cooler and more comfortable while sleeping.
The 2-sided design suits various needs during pregnancy. The soft memory foam is on side 1, and firmer support foam is on side 2. Based on needs and desires, users can shift from moment to moment by simply flip it over to regain maximum comfort. A plush Velboa cover is soft, durable, and washable.
3. QUEEN ROSE Pregnancy Pillow with Organic Velvet Cover-U-Shape Full Body Maternity Pillow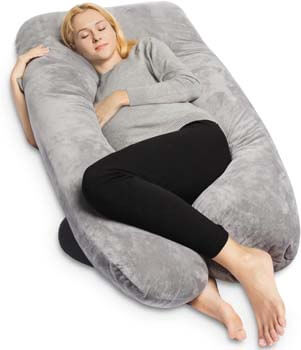 This QUEEN ROSE Pregnancy Pillow measures 55 inches long and 31 inches wide. This U-shaped body pillow with its unique design that follows the body shape can replace standard pillows to create multi-position as a pillow for sleeping, reading in bed, watching TV, and provide good support for pregnant mothers, and who are recovering from surgery.
This pillow also comes with a 100% soft velvet cover and an adjustable polyester filling with long-lasting resilience and durability.
2. Bedsure Pregnancy Body Pillow, Maternity Pillow for Pregnant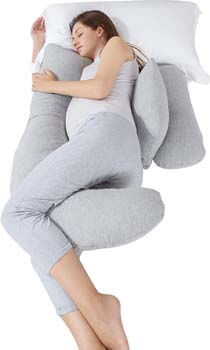 This Bedsure Pregnancy Body Pillow is uniquely designed in H-shaped to provide support for the entire body from both sides for great comfort. One of the unique features of this pillow design is the exclusion of the head pillow. This allows the user to use one's own bed pillow for personal preference.
Additionally, this body pillow is designed in three detachable parts with the two detachable pillows being attacked by the belt that can be adjusted to alter the distance between the two pillows, and another small pillow separated for additional support when needed. It is filled with 100% polyester fiber and comes with an inner cover and removable and washable zippered outer cover.
1. PharMeDoc Pregnancy Pillow, U-Shape Full Body Maternity Pillow – Support Detachable Extension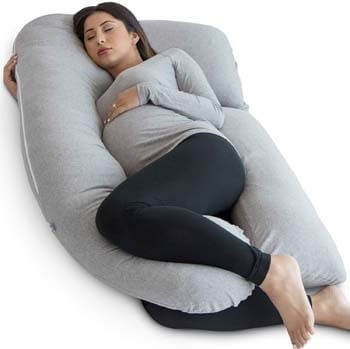 The unique feature of this PharMeDoc Pregnancy Pillow is the detachable extension side pillow which can be used on its own or attached to the main body pillow for additional back or belly support. This U-shaped maternity pillow measures 53 inches long and 31 inches wide.
The inner curve design, the polyfill blend filling, and the zippered 100% jersey knit-cotton pillow increase the comfort for users and its durability.
CONCLUSION
To sum up, choosing the right maternity pillow can make a big difference for the mother-to-be during the pregnancy period as it can help support and provide a comfortable sleeping and resting position. In many cases, for general people who want to find a comfortable sleeping position, this can also be helpful.
Hopefully, this list of the best maternity pillow can help you spot the right pillow for yourself and your loved one. We wish you all the best!