The baby's mouth plays a significant role in his/her development. Sensory sensations like breathing and eating require proper coordination of the tongue, jaw, and lips. Natural breastfeeding is the best training for babies from birth up to two or three years old. However, some moms would like their babies to switch from breastfeeding to bottle-feeding after two years or even earlier.
The question is, what baby bottles are best to use for your baby to prevent or reduce the amount of air the baby takes in while bottle feeding? In the following article, I will show you the top 5 best baby bottles for colic that you can choose from.
Top 5 Best Baby Bottles for Colic
1. Natural Feel Baby Bottle from Comotomo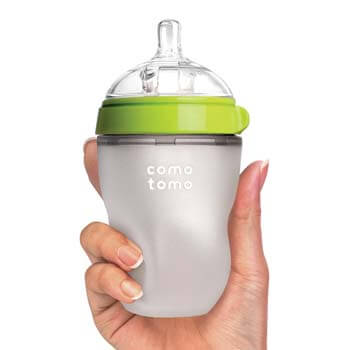 The baby bottle offers practical and innovative designs to closely mimic breastfeeding. The naturally shaped, soft and silicone nipples are ideal for babies who have difficulty in transitioning to bottle-feeding. The squeezable, skin-like, soft body of the bottle is comfortable to hold. The wide-neck feature of the bottle will offer a fast and efficient cleaning experience. The innovative vents have the purpose of preventing colic while they ultimately prevent annoying leaks.
The 8oz bottle comes with two medium two-holes flow nipples designed for babies ranging from three-six months. A slow flow 1-holed nipple is also available to help the baby's sucking abilities, and it also prevents spit-ups and choking. The fast flow nipple has three holes which are best for big kids. The variable flow nipple features a Y-cut design that adapts to your child's feeding rate and is ideal for thicker fluids.
The bottles also have a unique interlocking feature and a no-drip design. The bottle is made from silicon which is 100% free from hazardous chemicals like PVC, BPA, and Phthalate.
2. Closer to Nature Fiesta Bottle from Tommee Tippee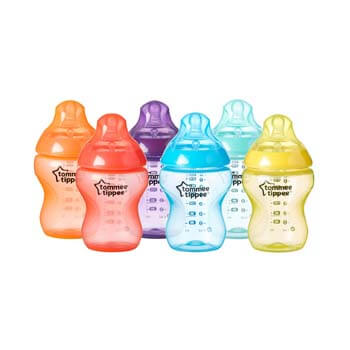 This fiesta bottle pack offers a fun feeding time for your baby with an array of colors. Tommee Tippee promotes smooth feeding for infants and parents with its coordinated packs for girls and boys. It comes with an easy-latch and unique nipple shapes that mimic the natural stretch, flex, and movement of a mother's breast. It also has an Easi0Vent valve which encourages the baby's intuitive action for relaxed and comfortable feeding.
The compact three-way shape allows the baby to feed in a natural position. The bottle can be easily handled in 3 ways – cradled in the hand, gripped like a wide neck bottle, and held from the base.
The sensitive valve eliminates too much airflow making the baby drink more milk and less air. The nipples are also easy to fill and clean. It is dishwasher and microwave safe, and it is light and comfortable to hold. The bottle has a hygiene seal cap and is marked in ounces and millimeters. The Closer to Nature bottles is BPA-free.
3. Bottle Liners for Playtex Nurser Bottles from Playtex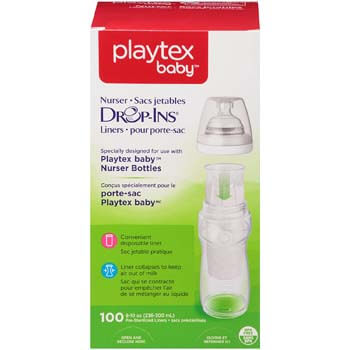 For Playtext bottles it is clinically proven that the liners contract like real breasts, so there's more air that can enter the system allowing the baby to get more milk and no air. Preparing the bottle is easier. Its anti-colic line will collapse as you are feeding the baby, thus preventing the air to mix with the milk. Fewer air bubbles mean that there are less colic, gas, and discomfort.
With Playtex bottles, first, you just have to place the pre-sterilized liner into the bottle then fill it. After that, you can enjoy your time with the baby. The pre-sterilized and pre-formed disposable liners mean less washing time.
It mimics natural breastfeeding through its suck simulation. The swallows and breaths will have the same patterns as breastfeeding making the baby breathe more naturally during feeding. The bottle is always BPA-free!
4. Dr. Brown's Natural Flow Bottle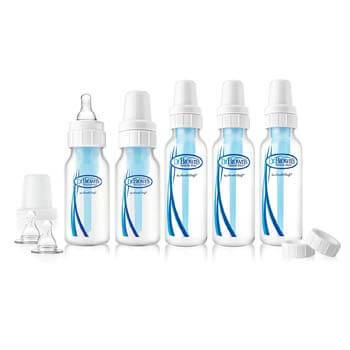 This natural flow standard baby bottle offers a great feeding experience with its innovative vent technology. It uses a patent-protected two-piece internal vent system for the baby's comfort. The innovative system creates a positive pressure flow for vacuum-free feeding which imitates natural breastfeeding. The milk formula flows freely.
When the baby is feeding, the air is channeled through the vent system then back to the bottle's back. The process prevents the air from mixing with the milk formula stopping oxidation. This preserves essential vitamins like A, C, and E. The ventilation also eliminates the air bubbles in the liquid, which reduces spit-up, colic, gas, burping and other feeding problems.
The bottles are lead, PVC and BPA-free for the baby's safety.
5. Natural Polypropylene Bottle from Philips AVENT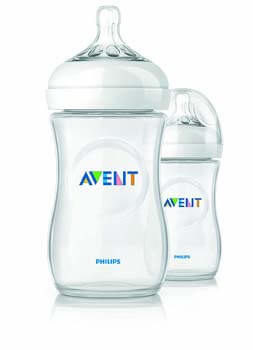 The Philips AVENT Bottle is also a close-to-natural way to feed babies. The petals which can be found inside the nipple, increase softness and flexibility without nipple collapse. The innovative valve which is also an anti-colic flow (slow) nipple, will help to feed the baby in a convenient and comfortable manner. There are many flow rates available which is very helpful if your child is growing up fast.
Its ergonomic shape makes it comfortable for you to hold, and if you have small fingers, it is easy to grip. The bottle assembly is quite simple, and the wide neck makes cleaning and filling easy. The bottle is made from polypropylene, BPA-free, and works with all the caps and nipples from the Natural line.
What is an Anti-Colic Bottle?
An anti-colic bottle has a mechanism for reducing the amount of air the baby takes in during his/her bottle feeding. Swallowing air while feeding on the bottle can create an uncomfortable gas and pressure in your baby's tummy. It can cause a post-bottle fussiness.
Anti-colic bottles usually have a vent system, which forces the air out of the bottle so it can't be taken in by the baby.
Why is it a Good Investment?
Many people, especially mothers, would say that breastfeeding is the best way to nourish your baby. However, not everyone has the capacity to do that, so there is a need to switch from breastfeeding to bottle-feeding.
Anti-colic bottles are not the only remedy for babies who suffer colic, but it also has a lot of advantages over the standard baby bottles in general.
First, because of the bottle's innovative design, babies are less likely to intake air with their milk. Thus, they can avoid colic. Here are some of the other advantages of anti-colic bottles and baby bottles in general:
Anyone can feed the baby, so the bonding experience between a father, sibling, and other people will be strengthened.
Feeding can be done conveniently and efficiently. The motions of breastfeeding are time-consuming, so using a bottle can speed up the process.
Breastfeeding in public is acceptable, but some women feel insecure or anxious if they do it, especially if their baby is not so young anymore. The bottle is the way to go, especially if you're traveling, or working.
Not all women are capable of breastfeeding, so bottle feeding is the only option. Their milk production is quite low, and this can cause frustration and despair. A good quality bottle will decrease these negative emotions because these ladies can know that their child is getting a good, safe meal.
The advantages I mentioned above are not aimed to make women switch abruptly to bottle feeding; it is only an option for women with limitations such as the inability to breastfeed or too much work.
Tips for Buying the Perfect Baby Bottles for Colic
Take a look at some tips on buying the perfect baby bottle to make your baby's transition from breastfeeding stress and colic free.
Consider the size
There are many different sizes available, and choosing the right one for your baby, usually depends on its age. The size and flow of the bottle are related, so if the size is small the flow is slow. For a newborn baby, it is advisable to buy the smallest one because it fits the child's needs and capacities. If the baby begins to suck with ease and needs to drink more, an upgrade in size will be required.
Shape and Design
The anti-colic baby bottles are usually wide-neck because of their features which are different from other types of bottles. Examine the bottles carefully and if you're still not sure, just ask if they're anti-colic or not
Materials
Some of the choices you'd be having are glass, plastic, and stainless steel. If you opt for plastic, remember that even though it is unbreakable, it will start to deteriorate after a long time of usage. Glass bottles are heat-resistant but without proper precaution, they can still crack, get chipped, or broken. However, the glass bottle can perfectly store your formula or breast milk.
Also, look for bottles that are BPA-free. This is a chemical bisphenol-A which is released into the baby's food when a plastic bottle with milk is heated. This happens if you keep it at a boiling temperature for at least 30 minutes. Glass bottles are usually BPA-free. Today, most companies that manufacture anti-colic bottles also make them BPA-free.
Stainless steel bottles do not contain this chemical as well. They are lightweight and unbreakable but not commonly used. Again, when choosing the type of material the bottle is made from, check how it affects your baby's feeding experience.
Teats
Baby bottles for colic have teats which mimic woman's breasts, so the transition doesn't feel too drastic for the baby.
Each baby is different of course, and you can choose slow, medium, fast, and variable flow speed. Examine your child's sucking ability first and determine the rate of sucking.
Choose the teat which is made from silicone since it lasts much longer than a latex one.
Other Accessories
You should also consider the cleaning, storing, and carrying accessories for the bottle. Choose the one that can be cleaned and carried around easily, especially if you're traveling.
Conclusion
The list of the best baby bottles for colic is written to guide and help new mothers in choosing the best possible alternative to breastfeeding. The main thing to remember is that you shouldn't worry about or doubt the capabilities of these bottles.
With proper use, your baby will have a fun and colic-free meal. As for the winner of this round-up, in my opinion, it is the bottle from Comotomo. It is innovative, safe, and stress-free, replicating the natural breast experience. Although other products have almost the same features, this brand has received the most praise from mothers.
Tell me if you like this article by commenting on something on the comment below. Happy reading!