Many parents get completely confused for the first time they have had a baby apart from being filled with great happiness. Taking care of them is not easy because you will have to prepare millions of things and gain enough knowledge to nursing their babies.
The majority of parents have chosen to kick their babies off by sleeping in the crib. However, other people have picked a bassinet. If you want co-sleeping, a bassinet is not a bad idea since they are usually portable and tiny, suitable for babies.
Hence, if you want to buy a bassinet, today's post will give you, who will be parents, total reviews of the best bassinet, and how to make a good purchase.
List Of The Best Bassinet For Your Baby:
1. Graco Playard with Bassinet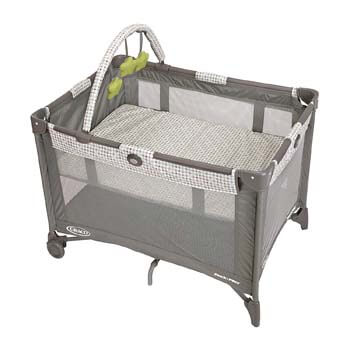 The pack n play feature allows parents to store and pack up quickly. Hence, this product is produced to make your little angel relaxed and comfortable not only at home but also away with automatic folding wheels and feet.
Another plus point is that this bassinet has a toy bar that hangs several soft toys to amuse and entertain your infant. We all know that babies are often excited about visual stimulation.
However, the folding feature is not able to be dissembled for storage. Likewise, not all color options include full features as advertised. Also, the napper is too small; the naps do not work so well.
Pros
Nice design
Different colors available
Easy to assemble
Affordable
Equipped with the toy bar for entertainment
Easy to carry that is suitable for traveling
Cons
A hard and thin mattress
The folding feature could not be disassembled
Too small napper
Does not have reach-through bassinet for changing diapers
2. Disney Princess Bassinet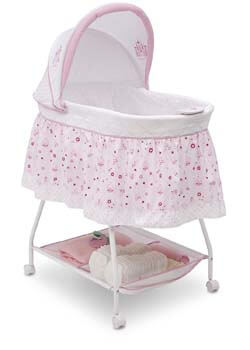 The typical feature of the Disney bassinet is having soothing music, vibration, and a calming nightlight that supports your little one is sleeping and entertaining. The combination of gliding base and lockable casters allows you to turn the bassinet into a stroller.
Furthermore, the manufacturer has added a removable and adjustable canopy basket to store your baby's essentials. JPMA certification is to prove that it meets all strict safety standards of the ASTM and CPSC.
Nevertheless, the caster is one of the minus points that force you to pay attention to the bassinet all the time to prevent unexpected situations. Additionally, it requires 4 AA batteries to operate efficiently.
Pros
Soothing music, vibration, and calming night for babies' sleep and amusement
Casters are attached for moving around easily
Removable and adjustable canopy basket that makes it easier for moms to change diapers
JPMA certified
Cons
Have to pay attention to casters and never leave your baby alone when they are not locked yet
Requires batteries to operate efficiently
3. Circle Tech Bassinet for Twins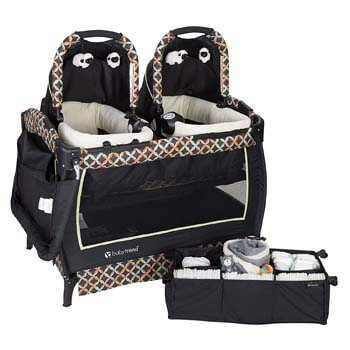 This twin Playard is a solution for those who have twins. It has a removable rock-a-bye bassinet with a carrying handle and canopy. The mesh and plush fabric are used for ventilation. Besides, the product provides parents with a changing table.
Like other modern bassinets, the twin bassinet also has big wheels with brakes for safety reasons. Vibration, a nightlight, and electronic music, of course, you can control volume, are fully equipped.
Despite those benefits, there are some factors that you should consider before making a purchase. Due to the lack of precise instructions, the assembly is quite challenging. Moreover, I have to say this product is not cheap at all. In other words, it will cost you a significant amount of money.
Pros
Small sounds
Small light
Have different settings for electronic music
Soft mattress
Equipped with carrying handle
Easy to disassemble
Cons
Pricey
Lack of real instructions leading to difficulty in assembling
4. Chicco Deluxe Bassinet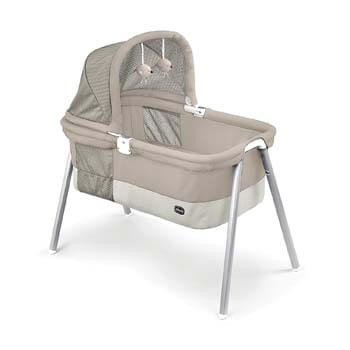 With its 2-tier design, the bassinet could be raised to get closer to the baby's mom, so I think this product is suitable for c section moms and co-sleeping as well. The big canopy and removable toys could provide your angel protection from entertainment.
The pack n play weight limit is 20 pounds to the maximum. The bassinet folds easily as well as stores into an accomplished bag for transportation. Apart from that, the bassinet fabric and mattress pad could be easily disassembled for being washed.
However, in my opinion, this bassinet is quite expensive compared to other types having the same functions.
Pros
Simple and nice design
Allow the floor to be raised that is beneficial to co-sleeping
Assemble easily
Convenient for transportation
Removable hanging toys
Soft mattress and fabric which could be removed to get cleaned
Bigger weight limit
Cons
Pricey
One-color available only
5. Arm's Reach Bassinet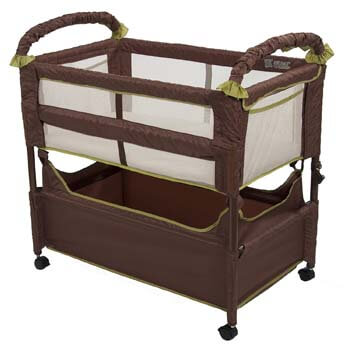 The outstanding feature of this bassinet is the below storage basket that you can store many baby essentials. Besides, the mattress sheet plates and straps are both included in the product, so you do not need to pay more for those items.
As you can see in the photo above, 4 wheels are attached below the storage with leg extension offering users full mobility. Last, they fit rooms with small space.
Although the price, I think, is a little bit high, this is not an attractive design. The instructions are not clear, so it might take you about 15 minutes to assemble. Co-sleeping is not well supported.
Pros
Quality construction
Convenient storage basket
Mattress strap and plate are included
Full mobility with 4 attached wheels and leg extensions
Fit small rooms
Cons
Not attractive design
Quite expensive
Unclear instructions
Co-sleeping is not fully supported
Best Baby Bassinet Buying Guide
What is a bassinet?
Newborns spend a lot of their time sleeping, and so does your baby. Therefore, good sleeping space is significant. Likewise, guaranteeing child safety while sleeping is another big concern of parents.
A bassinet is a bed that is used for newborns up to six-month-old babies. Standard bassinets often work with rigid casters or legs, a gliding or rocking motion, and are mainly designed for small space.
Let's check the below video to have a closer look at a bassinet!
Considerable Benefits of Bassinets
1. They are really good for co-sleeping
Co-sleeping is used to mention sleeping with your child in the same room. I will not list out the significant advantages of co-sleeping here, but it could prevent your baby from suffering from the so-called disease SIDS.
As I mentioned above, bassinets are often portable and tiny; they are ideal for co-sleeping.
2. They are very convenient for breastfeeding and changing diapers
Honestly, I have two main reasons. Firstly, you and your child will sleep in one room, so you must not wander around your house, especially at midnight.
Secondly, it will be much easier to get your baby in and take them out of the bed since bassinets are not as high as cribs. Therefore, diaper changes and feeding could not be a difficult task for parents.
3. They are easy to carry and to move
If you plan to get away from your big city in a few days – let's say at grandma's house or a luxury hotel, you can turn a traditional bassinet into a travel bassinet because it is lightweight and compact, and most of them are portable.
In some cases, a bassinet might be used as a stroller when you want your little one to spend the morning sunbathing or just simply to go for a walk and breathe fresh air.
4. Keep the peace
You will have nothing to worry about because you know that your angel is sleeping in the same room as you, and they are close to you, although there are plenty of baby monitors available on the market now.
Disadvantages
Despite those benefits, I must say bassinets also have some downsides that you should be aware of.
1. They get cramped quickly
Buying stuff for a preemie is not easy, and you will go shopping continuously because your baby grows so fast. When they start to roll around and sit upon their own (approximately 3 – 6 months), a bassinet is not safe enough for them to sleep in.
Sadly, you are not making use of something which costs you a large amount of money.
2. Noisy Babies
In fact, co-sleeping is not suitable for some parents, as they cannot stand hearing the noise, particularly at midnight that their baby creates.
How to choose the best bassinet
After having some basic information about bassinets, I will show you the most essential factors that you should consider carefully to pick the best bassinet for your infant.
1. Safety certification
Manufacturers could comply with Child Safety Standards (ASTM) that is indicated by the JPMA seal. Although it does not ensure that the bassinet is 100% safe, it meets specific standards.
2. Buy new
I agree that it is so nice to save money, and you would love to use a passed-down bassinet instead of purchasing a brand new one. Seriously, this is not recommended at all!
The safety standards are changed every year, and the manufacturers often recall their baby products due to safety reasons. Even if your bassinet is not placed, it might miss some parts or the manual after using in a few months.
3. Firm, thin and organic mattress
Do not put the child in a stiff and rigid mattress for safety reasons! That kind of bassinet mattress could block the airways leading to the attack of SIDS.
Try your best to find and buy a non-toxic mattress that could prevent your child from having an allergy to particular substances in the fabric.
4. Mesh Walls
Suitable bassinets always come equipped with mesh walls that will let your child breathe easily if they lie prostrate.
5. Portability and Size
Depending on the purpose, portability, weight, and size are potentially significant. If you want a travel bassinet, it must be easy to carry and lightweight.
If you are finding a bassinet just for c-section moms or just for co-sleeping, guarantee that you choose one tiny enough to fit your room and bed.
Safety Tips
Even if you have never used or have used a bassinet for a long time, I think you should know and understand several safety precautions.
1. Ensure that your bassinet is fully and carefully assembled
Remember that the safest one in the world will become unsafe if it is not installed correctly. Check the instructions carefully and contact the manufacturer if you need help.
2. Always use padding or mattress provided by the manufacturer
Please understand that it is specially designed to create no gaps between the walls and itself. Your baby is potentially prone to suffocation if you replace fitted sheets with a standard sheet.
Many newborns have experienced infant reflux; giving them a higher position by elevating the bassinet mattress is my practical solution for reflux.
3. Keep the mobile casters locked
If you move your bassinet, make sure that the locking mechanism is put in place to keep it away from rolling around without control.
4. Never leave them alone with rocking mechanism
One thing you should note down is that never leave your child with a rocking bassinet even though rocking motion might be highly soothing to your baby.
Conclusion
In brief, apart from considering both the advantages and disadvantages of bassinets, before deciding to get your baby one, you should also think about other factors such as mesh walls, safety certifications, size, mattress, and portability.
I hope that you had a good time with today's article, and now you can confidently choose the best bassinet for your little angel. If you have any questions, leave a comment to let me know. Last, remember to like and share this post with your friends if you like it.